Chapter 9

Dimensionality reduction
9.1

Overview

Many scRNA-seq analysis procedures involve comparing cells based on their expression values across multiple genes. For example, clustering aims to identify cells with similar transcriptomic profiles by computing Euclidean distances across genes. In these applications, each individual gene represents a dimension of the data. More intuitively, if we had a scRNA-seq data set with two genes, we could make a two-dimensional plot where each axis represents the expression of one gene and each point in the plot represents a cell. This concept can be extended to data sets with thousands of genes where each cell's expression profile defines its location in the high-dimensional expression space.

Dimensionality reduction aims to reduce the number of separate dimensions8 in the data. This is possible because different genes are correlated if they are affected by the same biological process. Thus, we do not need to store separate information for individual genes, but can instead compress multiple features into a single dimension, e.g., an "eigengene" (Langfelder and Horvath 2007). This reduces computational work in downstream analyses, as calculations only need to be performed for a few dimensions rather than thousands of genes; reduces noise by averaging across multiple genes to obtain a more precise representation of the patterns in the data; and enables effective plotting of the data, for those of us who are not capable of visualizing more than 3 dimensions.

We will use the Zeisel et al. (2015) dataset to demonstrate the applications of various dimensionality reduction methods in this chapter.
### loading 

###




library

(scRNAseq)
sce.zeisel <-

 

ZeiselBrainData

()
sce.zeisel <-

 

sce.zeisel[

rowData

(sce.zeisel)

$

featureType

!=

"repeat"

,]



library

(scater)
sce.zeisel <-

 

aggregateAcrossFeatures

(sce.zeisel, 
    

id=

sub

(

"_loc[0-9]+$"

, 

""

, 

rownames

(sce.zeisel)))

### gene-annotation 

###




library

(org.Mm.eg.db)
ensembl <-

 

mapIds

(org.Mm.eg.db, 

keys=

rownames

(sce.zeisel), 
    

keytype=

"SYMBOL"

, 

column=

"ENSEMBL"

)


rowData

(sce.zeisel)

$

ENSEMBL <-

 

ensembl

### quality-control 

###


stats <-

 

perCellQCMetrics

(sce.zeisel)
qc <-

 

quickCellQC

(stats, 

percent_subsets=

"altexps_ERCC_percent"

, 

nmads=

3

)
sce.zeisel <-

 

sce.zeisel[,

!

qc

$

discard]

### normalization 

###




library

(scran)


set.seed

(

1000

)
clusters <-

 

quickCluster

(sce.zeisel)
sce.zeisel <-

 

computeSumFactors

(sce.zeisel, 

cluster=

clusters, 

min.mean=

0.1

)
sce.zeisel <-

 

logNormCounts

(sce.zeisel)

### variance-modelling 

###


dec.zeisel <-

 

modelGeneVarWithSpikes

(sce.zeisel, 

"ERCC"

)
## class: SingleCellExperiment 
## dim: 19839 2937 
## metadata(0):
## assays(2): counts logcounts
## rownames(19839): 0610005C13Rik 0610007N19Rik ... mt-Tw mt-Ty
## rowData names(2): featureType ENSEMBL
## colnames(2937): 1772071015_C02 1772071017_G12 ... 1772066098_A12
##   1772058148_F03
## colData names(10): tissue group # ... level1class level2class
## reducedDimNames(0):
## spikeNames(0):
## altExpNames(2): ERCC repeat
9.2

Principal components analysis
9.3

Dimensionality reduction for visualization
9.3.1

Motivation

Another application of dimensionality reduction is to compress the data into 2 (sometimes 3) dimensions for plotting. This serves a separate purpose to the PCA-based dimensionality reduction described above. Algorithms are more than happy to operate on 10-50 PCs, but these are still too many dimensions for human comprehension. Further dimensionality reduction strategies are required to pack the most salient features of the data into 2 or 3 dimensions, which we will discuss below.
9.3.2

Visualizating with PCA

The simplest visualization approach is to plot the top 2 PCs (Figure 9.3):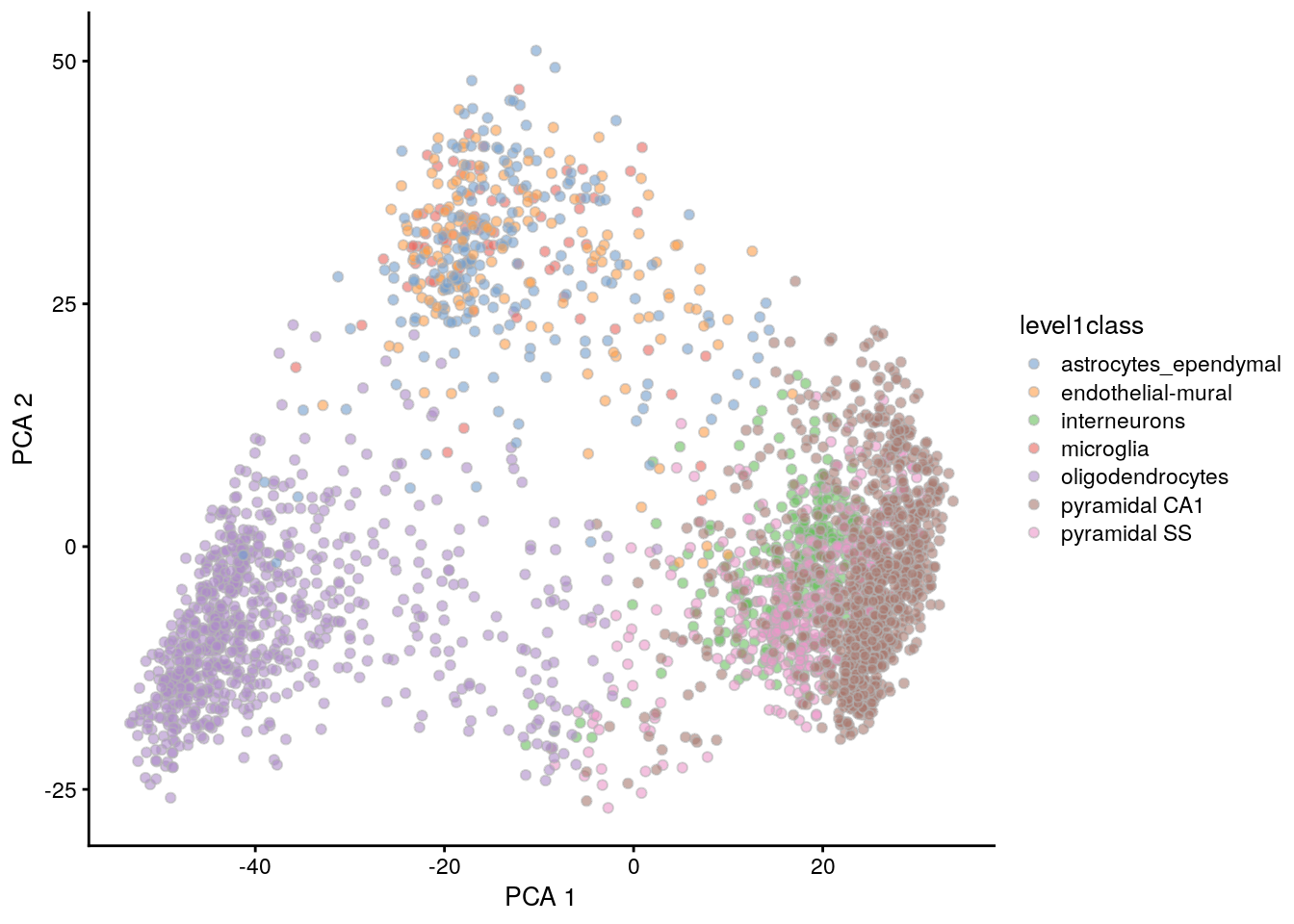 The problem is that PCA is a linear technique, i.e., only variation along a line in high-dimensional space is captured by each PC. As such, it cannot efficiently pack differences in \(d\) dimensions into the first 2 PCs. This is demonstrated in Figure 9.3 where the top two PCs fail to resolve some subpopulations identified by Zeisel et al. (2015). If the first PC is devoted to resolving the biggest difference between subpopulations, and the second PC is devoted to resolving the next biggest difference, then the remaining differences will not be visible in the plot.
One workaround is to plot several of the top PCs against each other in pairwise plots (Figure 9.4). However, it is difficult to interpret multiple plots simultaneously, and even this approach is not sufficient to separate some of the annotated subpopulations.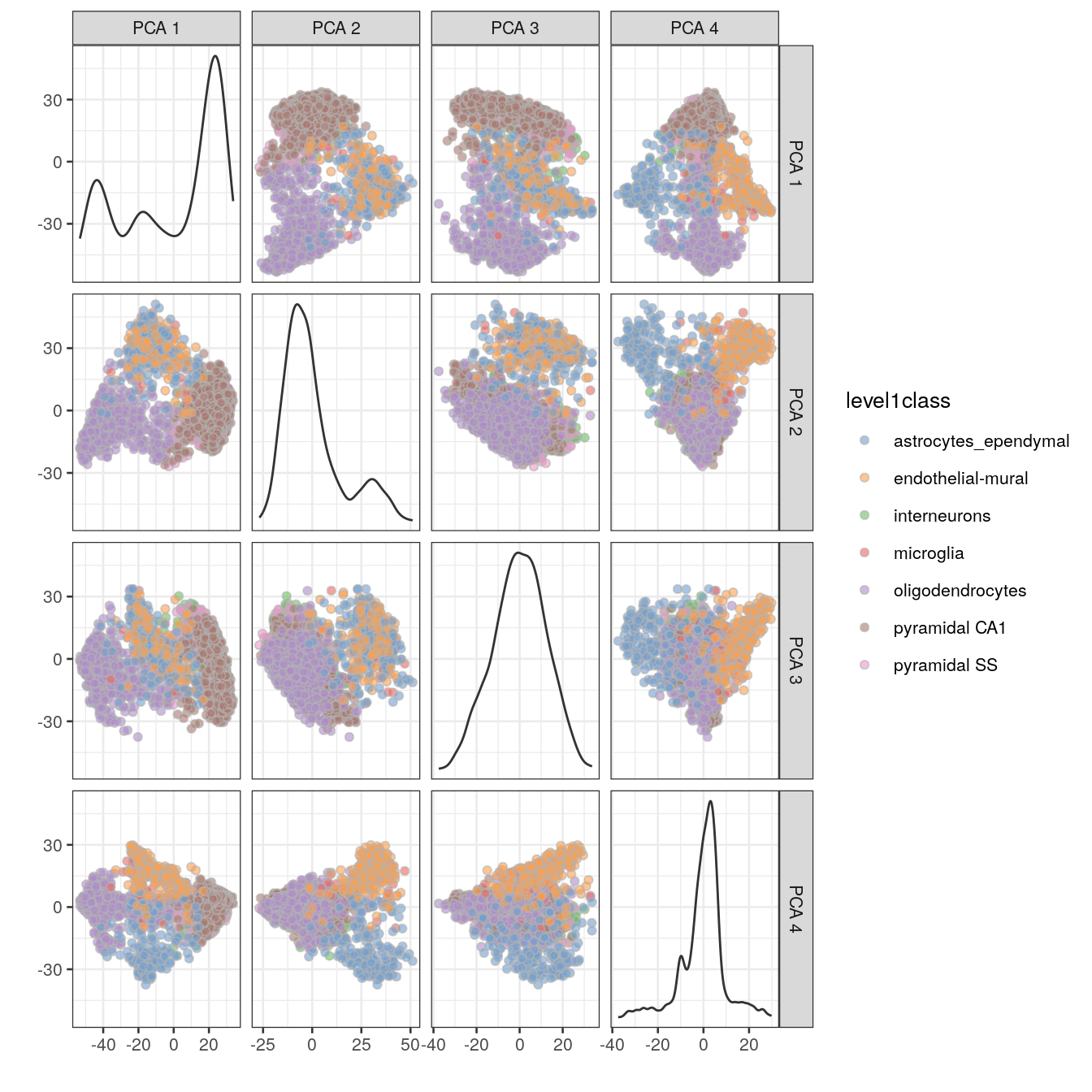 There are some advantages to the PCA for visualization. It is predictable and will not introduce artificial structure in the visualization. It is also deterministic and robust to small changes in the input values. However, as shown above, PCA is usually not satisfactory for visualization of complex populations.
9.3.3

t-stochastic neighbor embedding

The de facto standard for visualization of scRNA-seq data is the \(t\)-stochastic neighbour embedding (\(t\)-SNE) method (Van der Maaten and Hinton 2008). This attempts to find a low-dimensional representation of the data that preserves the distances between each point and its neighbours in the high-dimensional space. Unlike PCA, it is not restricted to linear transformations, nor is it obliged to accurately represent distances between distance populations. This means that it has much more freedom in how it arranges cells in low-dimensional space, enabling it to separate many distinct clusters in a complex population (Figure 9.5).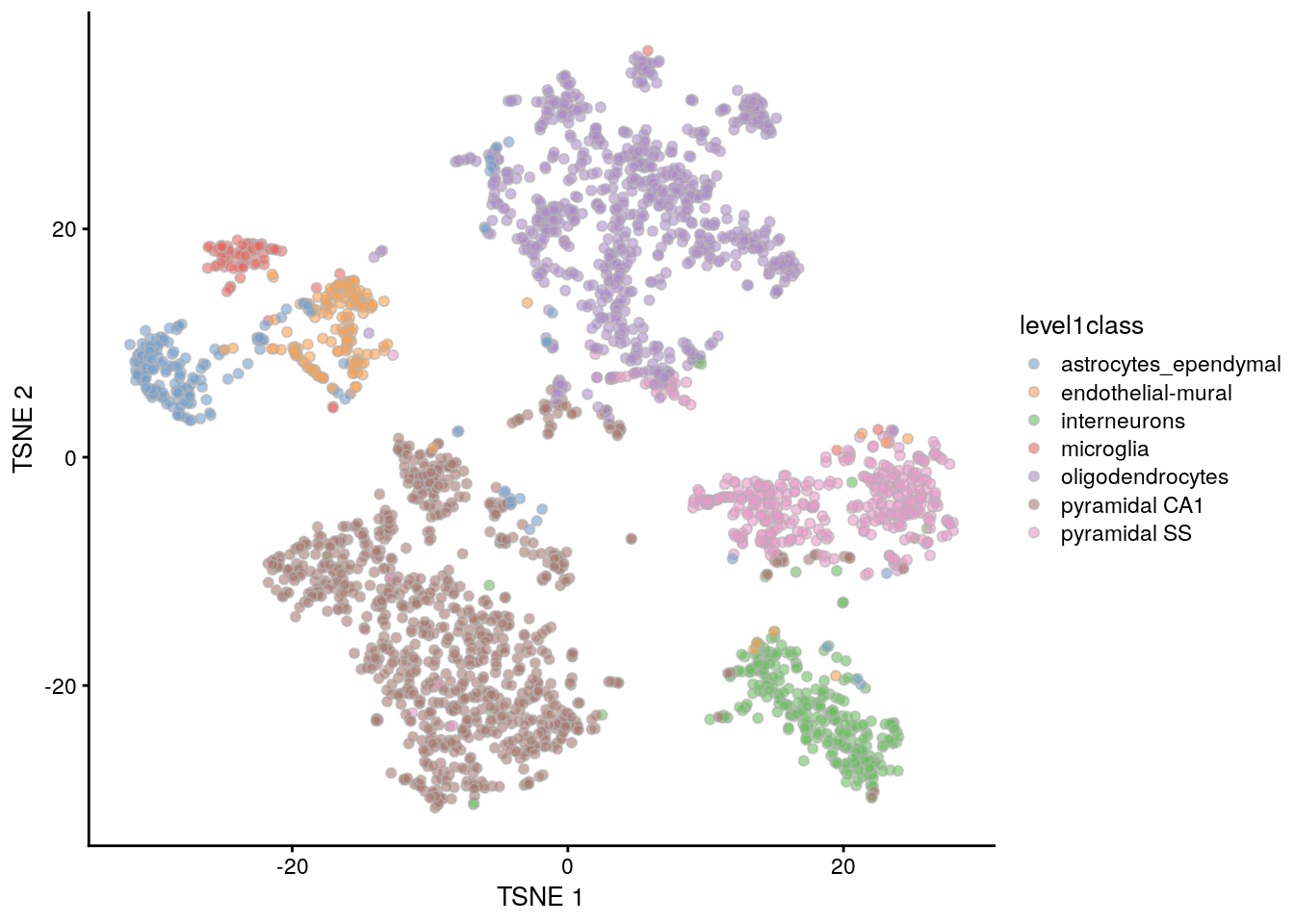 One of the main disadvantages of \(t\)-SNE is that it is much more computationally intensive than other visualization methods. We mitigate this effect by performing the calculations on the top PCs with dimred="PCA" in runtTSNE(). This takes advantage of the PCA to compact the data and remove noise, followed by \(t\)-SNE to create the visualization. It is possible to run \(t\)-SNE on the original expression matrix but this is less efficient.
Another issue with \(t\)-SNE is that it requires the user to be aware of additional parameters (discussed here in some depth). It involves a random initialization so we need to set the seed to ensure that the chosen results are reproducible. The "perplexity" is another important parameter that determines the granularity of the visualization (Figure 9.6). Low perplexities will favour resolution of finer structure, possibly to the point that the visualization is compromised by random noise. Thus, it is advisable to test different perplexity values to ensure that the choice of perplexity does not drive the interpretation of the plot.

Despite its shortcomings, \(t\)-SNE is proven tool for general-purpose visualization of scRNA-seq data. It sees routine use in many analysis pipelines and will likely continue to do so for some time.
9.3.4

Uniform manifold approximation and projection

The uniform manifold approximation and projection (UMAP) method (???) is an alternative to \(t\)-SNE for non-linear dimensionality reduction. It is roughly similar to \(t\)-SNE in that it also tries to find a low-dimensional representation that preserves relationships between neighbors in high-dimensional space. However, the two methods are based on different theory, represented by differences in the various graph weighting equations10. This manifests as a different visualization as shown in Figure 9.7.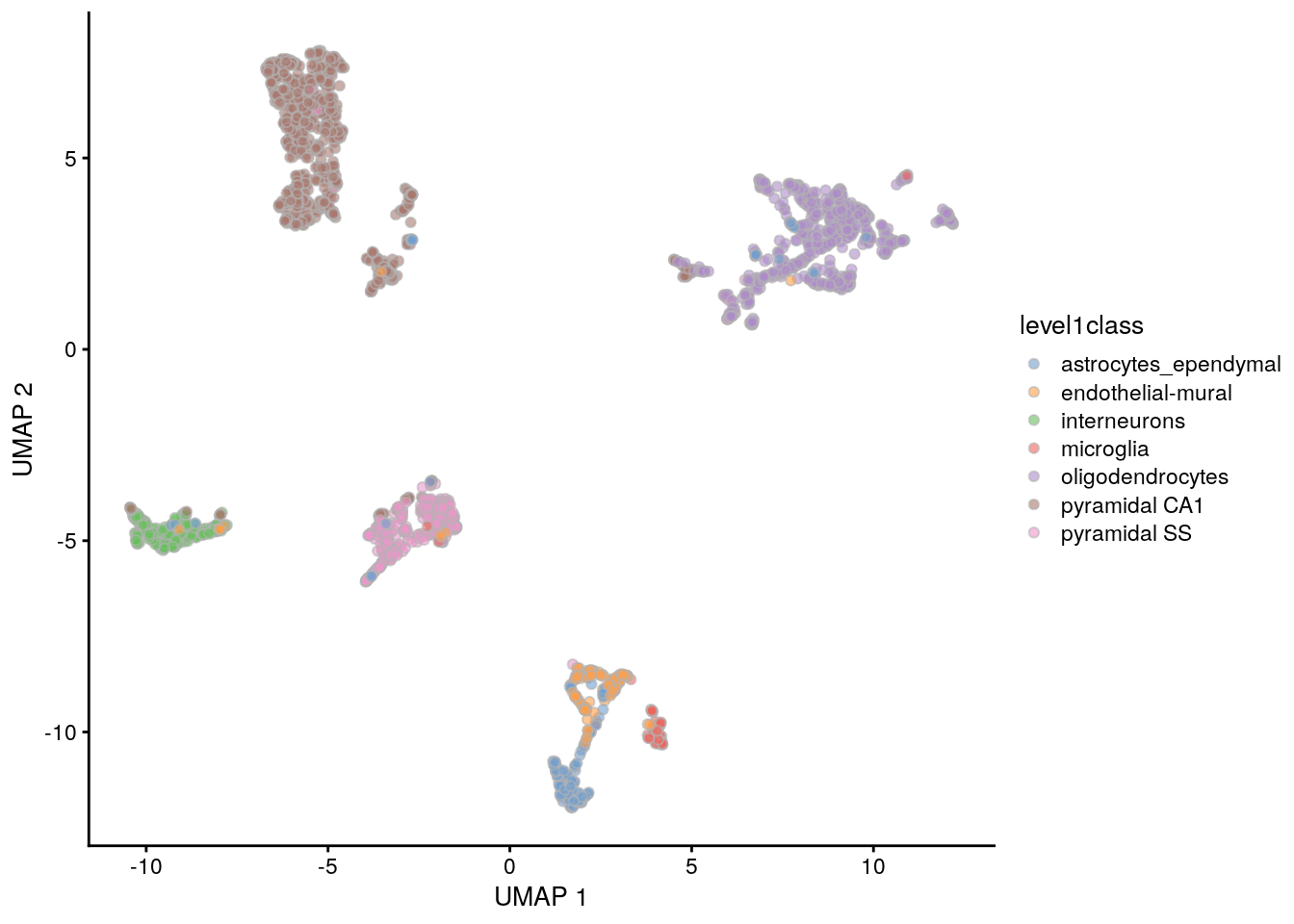 Compared to \(t\)-SNE, the UMAP visualization tends to have more compact visual clusters with more empty space between them. It also attempts to preserve more of the global structure than \(t\)-SNE. From a practical perspective, UMAP is much faster than \(t\)-SNE, which may be an important consideration for large datasets. (Nonetheless, we have still run UMAP on the top 20 PCs here for consistency.) UMAP also involves a series of randomization steps so setting the seed is critical.
Like \(t\)-SNE, UMAP has its own suite of hyperparameters that affect the visualization. Of these, the number of neighbours (n_neighbors) and the minimum distance between embedded points (min_dist) have the greatest effect on the granularity of the output. If these values are too low, random noise will be incorrectly treated as high-resolution structure, while values that are too high will discard fine structure altogether in favour of obtaining an accurate overview of the entire dataset. Again, it is a good idea to test a range of values for these parameters to ensure that they do not compromise any conclusions drawn from a UMAP plot.
It is arguable whether the UMAP or \(t\)-SNE visualizations are more useful or aesthetically pleasing. However, it is clear that UMAP is much faster. For that reason alone, it is increasingly displacing \(t\)-SNE as the method of choice for visualizing large scRNA-seq data sets.
9.3.5

Interpreting the plots

Dimensionality reduction for visualization necessarily involves discarding information and distorting the distances between cells. One might wonder whether the results of such extreme data compression can be trusted. Indeed, it would probably be unwise to directly analyze the low-dimensional coordinates used for plotting. Rather, the plots should only be used to interpret or communicate the results of quantitative analyses based on a more accurate higher-rank representation of the data.

To illustrate, consider the interaction between clustering and \(t\)-SNE. As a general rule, we would not perform clustering on the \(t\)-SNE coordinates. Rather, we would cluster on the first 10-50 PCs (Chapter (clustering)) and then visualize the cluster identities on the \(t\)-SNE plot. This ensures that clustering makes use of the information that was lost during compression into two dimensions. Given a discrepancy between the visible clusters on a \(t\)-SNE plot and those identified by our clustering, we would be inclined to favour the latter.
Session Info
R version 3.6.1 (2019-07-05)
Platform: x86_64-pc-linux-gnu (64-bit)
Running under: Ubuntu 14.04.5 LTS

Matrix products: default
BLAS:   /home/ramezqui/Rbuild/danbuild/R-3.6.1/lib/libRblas.so
LAPACK: /home/ramezqui/Rbuild/danbuild/R-3.6.1/lib/libRlapack.so

locale:
 [1] LC_CTYPE=en_US.UTF-8       LC_NUMERIC=C              
 [3] LC_TIME=en_US.UTF-8        LC_COLLATE=C              
 [5] LC_MONETARY=en_US.UTF-8    LC_MESSAGES=en_US.UTF-8   
 [7] LC_PAPER=en_US.UTF-8       LC_NAME=C                 
 [9] LC_ADDRESS=C               LC_TELEPHONE=C            
[11] LC_MEASUREMENT=en_US.UTF-8 LC_IDENTIFICATION=C       

attached base packages:
[1] parallel  stats4    stats     graphics  grDevices utils     datasets 
[8] methods   base     

other attached packages:
 [1] scran_1.13.18               BiocSingular_1.1.5         
 [3] scater_1.13.18              ggplot2_3.2.1              
 [5] SingleCellExperiment_1.7.8  SummarizedExperiment_1.15.9
 [7] DelayedArray_0.11.4         BiocParallel_1.19.2        
 [9] matrixStats_0.55.0          Biobase_2.45.1             
[11] GenomicRanges_1.37.15       GenomeInfoDb_1.21.1        
[13] IRanges_2.19.14             S4Vectors_0.23.21          
[15] BiocGenerics_0.31.5         Cairo_1.5-10               
[17] BiocStyle_2.13.2            OSCAUtils_0.0.1            

loaded via a namespace (and not attached):
 [1] viridis_0.5.1            edgeR_3.27.13           
 [3] viridisLite_0.3.0        DelayedMatrixStats_1.7.2
 [5] RcppParallel_4.4.3       assertthat_0.2.1        
 [7] statmod_1.4.32           highr_0.8               
 [9] BiocManager_1.30.4       dqrng_0.2.1             
[11] GenomeInfoDbData_1.2.1   vipor_0.4.5             
[13] yaml_2.2.0               ggrepel_0.8.1           
[15] pillar_1.4.2             lattice_0.20-38         
[17] glue_1.3.1               limma_3.41.16           
[19] digest_0.6.20            XVector_0.25.0          
[21] colorspace_1.4-1         plyr_1.8.4              
[23] cowplot_1.0.0            htmltools_0.3.6         
[25] Matrix_1.2-17            pkgconfig_2.0.2         
[27] bookdown_0.13            zlibbioc_1.31.0         
[29] purrr_0.3.2              scales_1.0.0            
[31] RSpectra_0.15-0          Rtsne_0.15              
[33] tibble_2.1.3             withr_2.1.2             
[35] lazyeval_0.2.2           magrittr_1.5            
[37] crayon_1.3.4             evaluate_0.14           
[39] FNN_1.1.3                beeswarm_0.2.3          
[41] tools_3.6.1              stringr_1.4.0           
[43] munsell_0.5.0            locfit_1.5-9.1          
[45] irlba_2.3.3              compiler_3.6.1          
[47] rsvd_1.0.2               rlang_0.4.0             
[49] grid_3.6.1               RCurl_1.95-4.12         
[51] BiocNeighbors_1.3.3      igraph_1.2.4.1          
[53] labeling_0.3             bitops_1.0-6            
[55] rmarkdown_1.15           gtable_0.3.0            
[57] reshape2_1.4.3           PCAtools_1.1.10         
[59] R6_2.4.0                 gridExtra_2.3           
[61] knitr_1.24               dplyr_0.8.3             
[63] uwot_0.1.3               stringi_1.4.3           
[65] ggbeeswarm_0.6.0         Rcpp_1.0.2              
[67] tidyselect_0.2.5         xfun_0.9                
Bibliography
Langfelder, P., and S. Horvath. 2007. "Eigengene networks for studying the relationships between co-expression modules." BMC Syst Biol 1 (November):54.
Van der Maaten, L., and G. Hinton. 2008. "Visualizing Data Using T-SNE." J. Mach. Learn. Res. 9 (2579-2605):85.
Zeisel, A., A. B. Munoz-Manchado, S. Codeluppi, P. Lonnerberg, G. La Manno, A. Jureus, S. Marques, et al. 2015. "Brain structure. Cell types in the mouse cortex and hippocampus revealed by single-cell RNA-seq." Science 347 (6226):1138–42.